Our mission here at E.W.O is to produce high quality products that meet all the specifications and expectations of our clients.
We will make a timely delivery on every order that is placed.

| | |
| --- | --- |
| At E.W.O we understand the importance of a robust quality control system. Through experience we reduce the waste of rework, and in turn reduce the cost of product, making it more cost effective for our customers to add more design to their projects than originally budgeted. | |
E.W.O product line has an array of advanced custom metal works; from commissioned metal art sculpture to commercial contemporary designs. Our goal is to bring an artistic flare to any project, at an affordable rate. Our draftsmen and engineers utilize 3D modeling programs to bring your dream to reality. Using the latest technology in cutting and finishing equipment, all of our welding staff who utilize the following welding processes: GMAW, FCAW, GTAW and SMAW, are certified to AWS (American Welding Society) applicable codes. Our acrylic custom painting system is environmentally friendly and we have an in-house AWS Certified Welding Inspector (CWI) and Certified Welding Educator (CWE).
With all this experience combined with quality control, please let us bring your dream to life.
E.W.O's Metal Sculptor: John.D.Null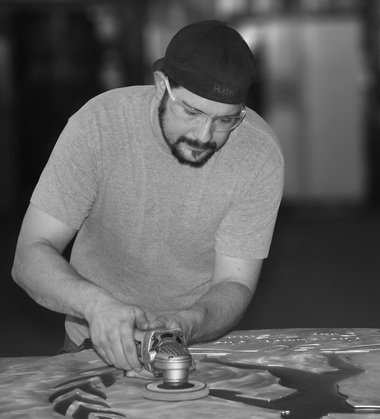 There are many artists today that will create a sculpture in metal, however few, if any, have the experience and expertise of John.D.Null.


With a background not just in Art, but in Welding, Inspection and Engineering, John has real world experience in artistic design and heavy duty engineering & welding applications. These dual skills and passions combine and make him a talented metal sculpture artist.


---
Aut Viam Inveniam Aut Faciam - 'I will either find a way, or make one!'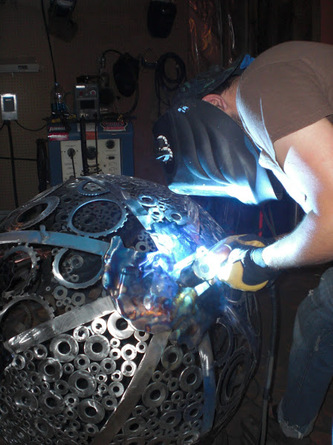 John is an AWS (American Welding Society) Certified Welding Inspector, Certified Welding Educator and Welder. He has worked in the welding industry for over 15 years as a structural & pressure vessel welder, quality control manager and inspector for a number of high profile companies, and has helped others build their welding careers as a welding educator at renowned vocational institutions.


John is passionate about producing quality welding in the United States, and as a result of his detail orientated work he has excelled in customer satisfaction through his Third Party Inspection company NIA Consulting.


---

John now focuses his time on the construction of art from metal. His principal mediums are steel and aluminum. There are inherent qualities to each of these materials that make them John's primary metals of choice. Paramount to his structures are strength, durability, and weather resistance. Aluminum has a nice white undertone that allows it to really capture creative grind patterns and reflect light brilliantly. There are however certain properties with steel that allow it to produce beautiful, vibrant colors, especially when super-heated with a torch. The natural material for both steel and aluminum is very similar in appearance, and in fact to the untrained eye is undecipherable.
John is an extremely dynamic welder and can and will work with any metal/material that will lend itself to the artistic integrity of his pieces.